The early voting period for the 2020 general election is Saturday, October 24th to Sunday November 1st. Early voting poll sites will differ from your typical poll site.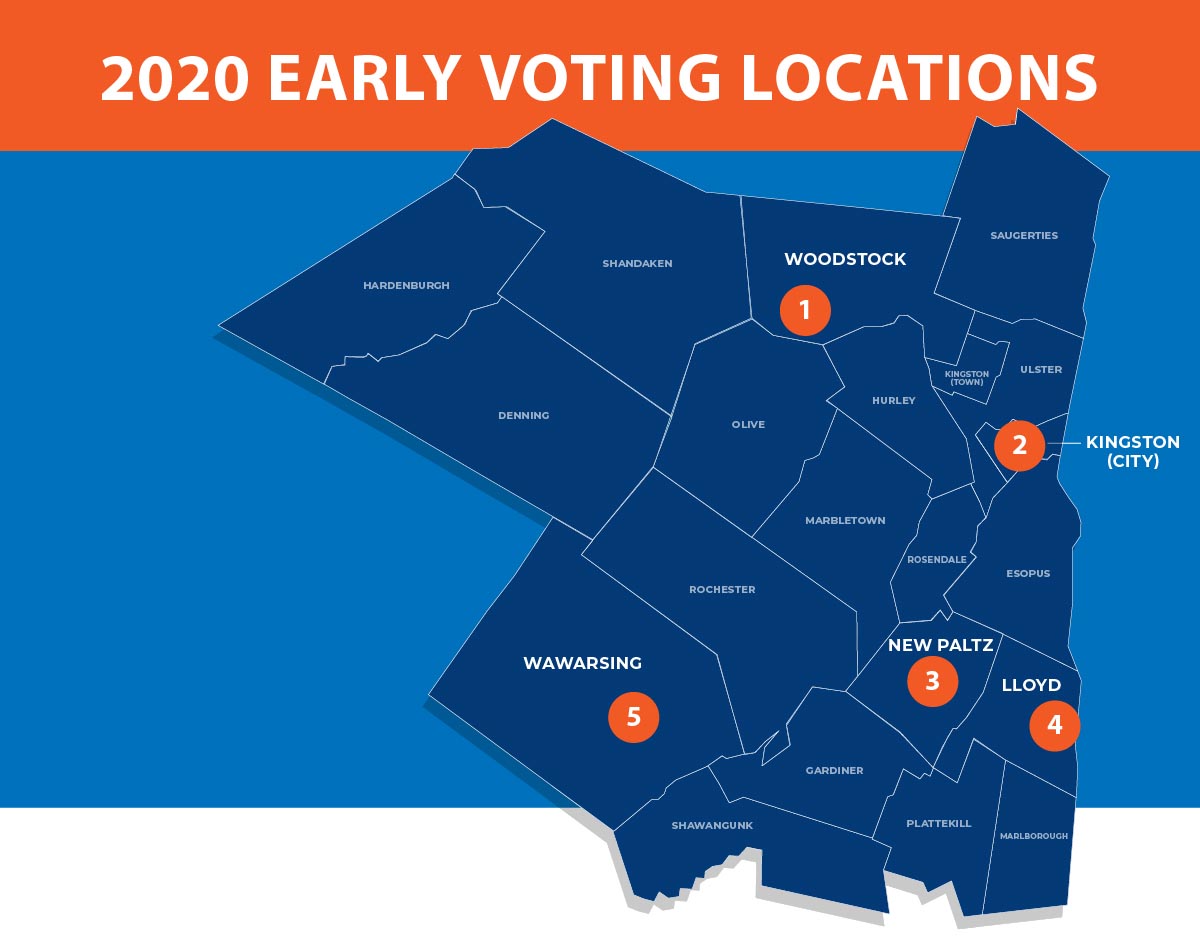 Hours for Early Voting
Saturday, October 24th: 10am – 3pm
Sunday, October 25th: 10am – 3pm
Monday, October 26th: 9am – 5pm
Tuesday, October 27th: 12pm – 8pm
Wednesday, October 28th: 9am – 5pm
Thursday, October 29th: 12pm – 8pm
Friday, October 30th: 9am – 5pm
Saturday, October 31st: 9am – 5pm
Sunday, November 1st: 9am – 3:30pm

Find Your Polling Location by using one of these links:
Election Day Polling Hours:6 am to 9 pm in Ulster County.
Questions? Contact your local Board of Elections:
Ulster County Board of Elections
Address: 284 Wall Street, Kingston NY 12401
Fax: 845-334-5434
Hours: M-F 9am-5pm

Requesting your Absentee Ballot
You can now request your ballot electronically or by phone at (845) 334-5470
Please note that you will not receive a confirmation email upon submission, and that you should record your confirmation number for your records.
Please note: Online and phone absentee ballot requests legally must be received by the Ulster County Board of Elections on or before October 27th, 2020, but we strongly encourage you to submit your request as soon as possible, well before this deadline, and no later than October 17th. After this date, we recommend that you vote in person at an early voting site or on Election Day at your designated poll site.
The first batch of absentee ballots will be mailed beginning on or about September 18th, 2020. You can check the status of your absentee ballot request here: Absentee Ballot Status
Casting your absentee ballot:
Once you receive the ballot, mark the ballot according to your choices for each office following the instructions on the ballot. Be sure to vote for the entire ticket.
Once you have completed marking your ballot, fold it up and place it in the Security Envelope. (This envelope will have a place for your signature.)
Sign and date the outside of the Security Envelope.
Seal the Security Envelope.
Place the Security Envelope in the Return Envelope. (This envelope will have the return address of your county Board of Elections on the outside and should have a logo that reads, "Official Election Mail")
Seal the Return Envelope.
Returning your absentee ballot:
By mail: Absentee ballots returned to the Ulster County BOE by mail must be postmarked on or before November 3rd, 2020.
In person: Deliver your absentee ballot in person during business hours to the Ulster County BOE (284 Wall Street in Kingston, NY) on or before November 3rd. You can also return your absentee ballot at an early voting poll site during the early voting period, or at a poll site on election day.